1958 - Purpal Caddilac Sedan De Ville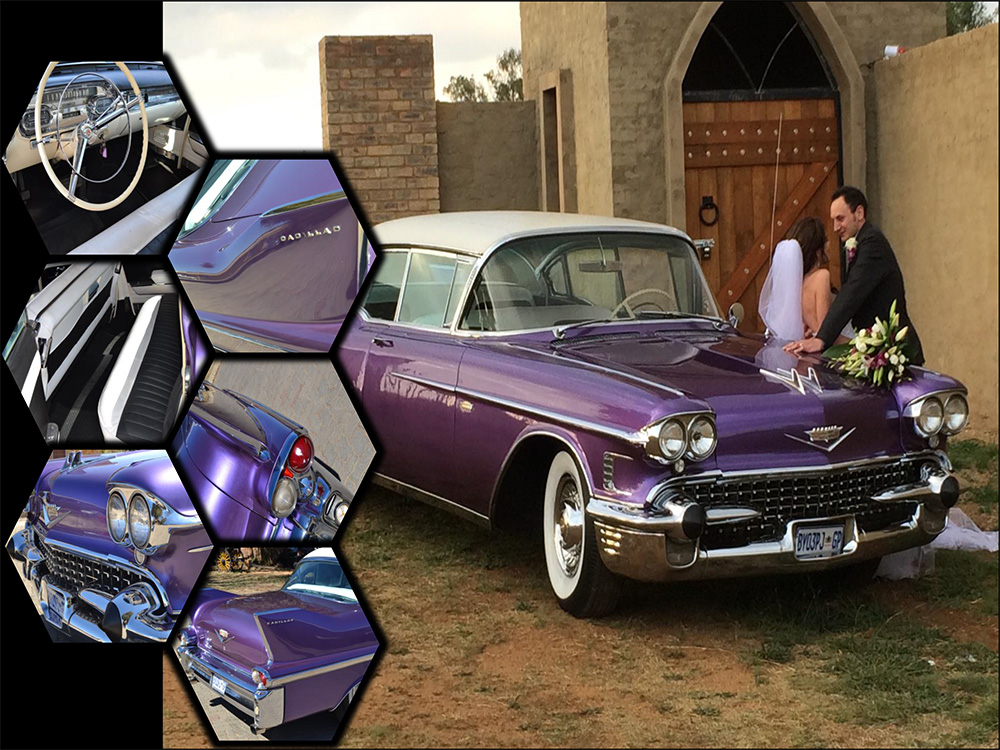 The Cadillac Sedan De Ville is a 4 door saloon (sedan) style car with a front mounted engine powering the rear wheels. The Cadillac Sedan De Ville is one of the 62 Series model families from Cadillac. Its 8 cylinder, overhead valve naturally aspirated power plant has 2 valves per cylinder and a volume of 6 litres. For this model it develops power and torque figures of 310 bhp (314 PS/231 kW) at 4800 rpm and 549 Nm (405 lbft/56 kgm) at 3100 rpm respectively. The power is transferred to the wheels via a 4 speed automatic transmission.
These 50's caddy's were used and owned by famous celebrities in the day, as for ex Elvis Presley.Cadillac's were heavily face lifted for 1958 in a manner typical of GM that year. Perhaps the most garish Caddy's yet; they were laden with chrome and far less stylish than previous post war models. Sales were poor, though a nationwide recession was probably more to blame than the baroque styling, which was, after all, in vogue. At 121,778 units, model year production was lower than at any time since 1954. Symbolizing the fall in fortunes was a V-8 slightly detuned in a faint nod toward fuel economy, limited to a single 310-bhp version for all models.
Forecasting the future, De Ville became a 62 sub-series for '58, and pillared sedans were temporarily eliminated. The 62 line also gained a hardtop sedan with extended rear deck. All models were available with cruise control, high-pressure cooling system, two-speaker radio with automatic signal-seeking, and automatic parking brake release. A special show Eldorado introduced a "thinking" convertible top that raised it and the side windows when a sensor detected raindrops, but this was another gimmick that came to nothing.
This car is unique with its v8 drivetrain and stylish looks from the 50's. She is one of the most popular classics in our fleet, and makes a great ride and photo opportunity for any event.