1960 - Red & White Chev Bellair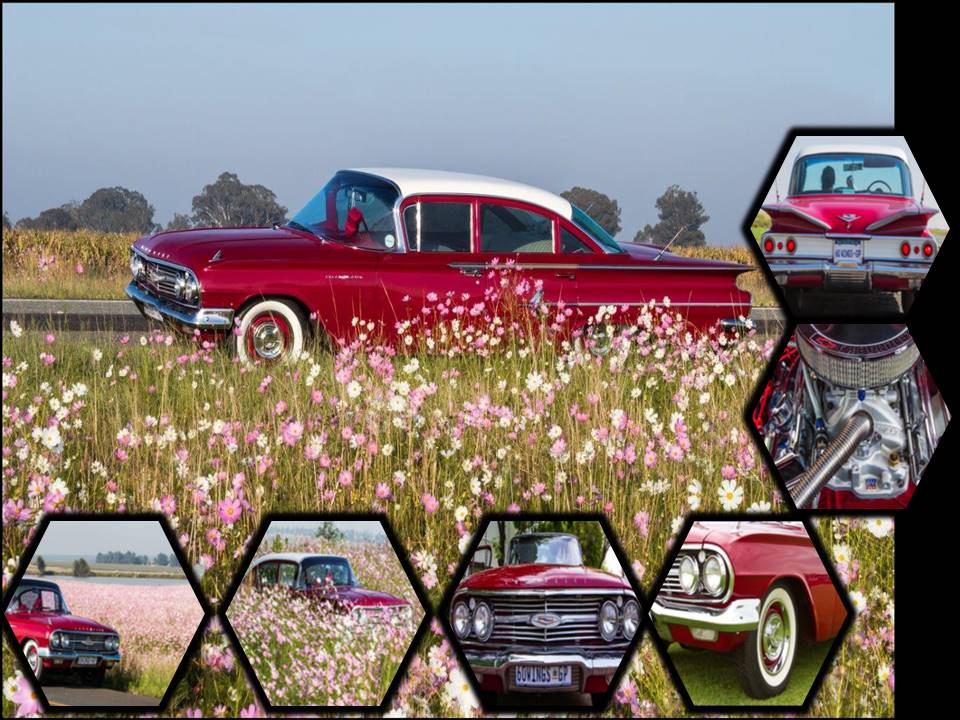 1960 – Red & White Chevy BelAir
South Africa is a huge Chevy country. 50's – 60's Chevy's were manufactured under license in South Africa. Of course they are all right hand drives except for the imports, which included the convertibles and most of the Impalas, these are left hand drive. Rhodesia (now Zimbabwe) is where Don Earl grew up, and as with many enthusiasts, his interests
were developed at a very young age, because his father owned a 56 Chevy. They were tobacco farmers and Chevy's were very hardy for the farm roads. The book (trunk), was used to carry live sheep and almost anything that was required for farming.
In 1975 at the age of 20 he moved to South Africa. His enthusiasm for Chevy's only came alive in the early 90's when he experienced the pleasure of seeing a few immaculately restored Chevy's. It was only in the 90's that he had some spare cash ad wet on the hunt for a 56' Chevy. He does not really know why but ended up with this 60' BelAir in his garage. The car was in desperate need of restoration. I suppose it was the excitement and the impatience of getting is hands onto something.
Restoration of the BelAir was completed in 1999 and included the following;
Importing of white wall tyres and numerous other parts from LGC-USA.
Re-chroming of all bumpers and side trim
New upholstery
Painting – an original colour, He favoured roman red
Suspension lowering for better road holding
Improvements include disc brakes and power steering

It was now time to take the BelAir on a test drive. So with his three embarrassed teenage children he headed for Harare in Zimbabwe from his base in Johannesburg in South Africa. What a drive!
Two thousand miles and onlookers wherever they went. They arrived back in Johannesburg three weeks later without a single problem. It was a very rewarding experience to show his 84 year old father his achievement.